Our parent company Allied Motion Technologies Inc.
Allied Motion
Motion Solutions That Change the Game
Allied Motion is a global company and parent company of Heidrive GmbH, with headquarters in Amherst (United States).
With 17 locations in North America, Europe and Asia and over 1700 (in 2019) employees worldwide, Allied Motion jointly develops, manufactures and sells products for the motion control market. These products include brushed and brushless DC motors, brushless Servo and torque motors, coreless DC motors, integrated brushless Motor drives, gear motors, gearboxes, modular digital servo drives, motion controllers, incremental and absolute optical encoders and related motion control products. These innovative drive solutions are used primarily in the automotive, medical, aerospace, defense and electronics industries.

Heidrive GmbH in Kelheim is the headquarters of all European subsidiaries and benefits from international cooperation and joint projects.
Certification of quality management systems
International Standards Organization (ISO) 9001 - Quality Management System
International Standards Organization (ISO) 14001 - Environmental Management System
International Standards Organization (ISO) 13485 - Medical Quality Management System
International Automobile Working Group (IATF) 16949 - Automotive Quality Management System
Society of Automotive Engineers (SAE) Aerospace Standard (AS) 9100 - Aerospace Quality Management System
Occupational Health and Safety Assessment Series (OHSAS) 18001 - Occupational Health and Safety Management System
Occupational Safety and Health Management (OSHM) - Occupational Safety and Health Management System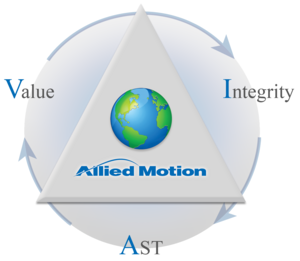 The short form "VIA" - Value, Integrity, AST - sums up the Allied Motion culture.
1. added value (Value):
Allied Motion offers its customers and shareholders concrete added value.
2. integrity (Integrity):
Allied Motion maintains the highest level of integrity in all business relationships.

3. Allied Systematic Tools (AST):
Allied Motion uses Allied Systematic Tools to continuously improve quality, delivery, cost and innovation.
Amherst, New York, USA
Dayton, Ohio, USA
Dothan, Alabama, USA
Twinsburg, Ohio, USA
Germantown, Wisconsin USA
Watertown, New York USA
Owosso, Michigan USA
Tulsa, Oklahoma, USA
Oakville, Ontario, Canada
Reynosa, Tamaulipas, Mexico
Kelheim, Germany
Mrákov, Czech Republic
Dordrecht, Netherlands
Bromma, Sweden
Modivas, Portugal
Ferndown, England
BRUSHLESS TORQUE MOTORS
BRUSHLESS SERVO MOTORS
BRUSHLESS SERVO AND DC GEARED MOTORS
BRUSHLESS MOTORS WITH INTEGRATED DRIVE Controller
ELECTRONIC POWER STEERING
SYSTEMS FOR WHEEL HUB AND REAR AXLE DRIVES
DC MOTORS
SPECIAL MOTORS (BRUSHLESS AND DC)
MOTORS FOR MEDICAL TECHNOLOGY
BLOWERS AND BLOWER SYSTEMS
DRIVE CONTROLLER AND MOTION CONTROLLER
OPTICAL ENCODERS
CUSTOMIZED PRODUCTS
AND MANY MORE
AIRCRAFT EMERGENCY FUEL BOOSTER PUMP
PILOT COOLING SYSTEM PUMP
SPACE STATION EXPERIMENT MODULE
AUTONOMOUS VEHICLE LASER SENSOR
AUXILIARY FUEL PUMP
AUXILIARY SYSTEMS FOR AGRICULTURAL IMPLEMENTS
ACTUATOR FOR CHEMICAL ANALYSIS EQUIPMENT
GPS-BASED STEERING OF AGRICULTURAL VEHICLES
HIGH-SPEED ELECTRONIC ASSEMBLY
INDUSTRIAL BAR CODE SCANNERS
GEAR PUMP FOR INDUSTRIAL INKJET PRINTERS
INDUSTRIAL WELDING WIRE FEEDER
MATERIAL TRANSPORT TROLLEYS & AGVS
PIPETTING SYSTEM FOR AUTOMATED BLOOD ANALYZER
HANDLING OF POSTAL PACKAGES
SEMICONDUCTOR OCD MEASURING SYSTEM
SEMICONDUCTOR WAFER DICING SYSTEM
TRAIN DOOR OPERATORS
MEMBRANE PUMP
AND MANY MORE
AVIATION AND AEROSPACE
AUTOMATION
INDUSTRY
MEDICINE
PUMPS
ROBOTIK
VEHICLES
AND MANY MORE