Geared Motors Compact
Cost-effective and versatile
| | |
| --- | --- |
| Motor types: | three-phase motors, capacitor motors, EC motors |
| Output power: | 20 - 220 W |
| Rated speed: | 1,200 - 3,000 rpm |
| Rated torque: | 0.13 - 1.27 Nm |
| Mass moment of inertia: | 0.18 - 3.30 kgcm2 |
| Options: | Capacitor loosely enclosed, brake, encoder, electronics, spur gear (with foot), bevel gear (with foot strips, with additional flange, with torque support), worm gear (shaft with flange on one side) |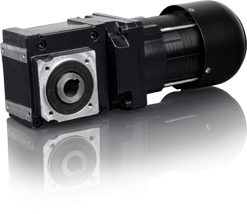 PACKAGING MACHINES
TOOLING MACHINES
OPTICAL MACHINES
INDUSTRIAL ROBOTS
AUTOMATION
HANDLING
PACKAGING MACHINES
TOOLING MACHINES
OPTICAL MACHINES
INDUSTRIAL ROBOTS
AUTOMATION
HANDLING
PACKAGING MACHINES
TOOLING MACHINES
OPTICAL MACHINES
INDUSTRIAL ROBOTS
AUTOMATION
HANDLING
Geared Motors Compact
Our universal and low-cost solution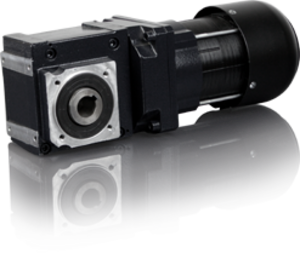 Our standard geared motor program is supplemented by the "Compact Geared Motors" series. This series has been specially designed for applications that require a protection class of IP40 or less and represents a cost-effective alternative to the gear profile motors. Available in the Compact version are helical, helical-bevel and worm gear units.
The combination of electric motor and gearhead allows a much higher torque to be achieved at lower speeds compared to the motor shaft. Heidrive offers you a wide range of geared motors for your individual application.
Various drive combinations
Every motor from Heidrive can be combined with helical, helical bevel, worm or planetary gears. The standard version of Heidrive geared motors includes a horizontal mounting position and is designed for normal ambient temperatures. The geared motors with helical or helical-bevel gear units are 4-pole, for worm gear units 2-pole as standard. A standard oil filling is used for the helical and helical-bevel gear units and synthetic grease for the worm gear units. It is not only the selection of gear units that is remarkable at the drive specialist Heidrive, but also the range of different drive solutions. Customers can choose between three-phase motors, capacitor motors, shaded-pole motors, EC motors and Servo motors. In addition, a wide range of additional options are available for each of these motors. Whether with fan blades or without, HIPERFACE® encoder or Resolver and electronics integrated or mounted, almost everything is possible with Heidrive. Even in the standard geared motor range, for example, the fans are integrated in the three-phase AC and capacitor motors, whereas the EC motor is unventilated as standard. It is particularly worth mentioning that the comprehensive standard geared motor range was extended years ago by the so-called Compact series. The Compact geared motor was specially designed for applications requiring IP40 protection or less and represents a cost-effective alternative to the standard geared motor. The Heidrive geared motor is maintenance-free and is used in a wide range of industries. The heating industry or equipment construction are particularly worthy of mention.