Worm gear units
Hardened and ground
| | |
| --- | --- |
| Motor types: | three-phase motors, capacitor motors, EC motors |
| Rated speed: | 23 - 300 rpm |
| Rated torque: | 4.9 - 29.7 Nm |
| Ratio: | 10 - 60 |
| Service factor: | 0.61 - 4.07 |
| Permissible torque: | 20 Nm |
| Options: | Brake attachment possible, capacitor and three-phase motor also available with 2 poles, capacitor supplied loose, plug-in shaft (left, right or both sides) |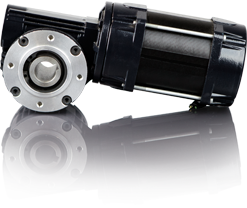 PACKAGING MACHINES
TOOLING MACHINES
OPTICAL MACHINES
INDUSTRIAL ROBOTS
AUTOMATION
HANDLING
PACKAGING MACHINES
TOOLING MACHINES
OPTICAL MACHINES
INDUSTRIAL ROBOTS
AUTOMATION
HANDLING
PACKAGING MACHINESMACHINE
TOOLING MACHINES
OPTICAL MACHINES
INDUSTRIAL ROBOTS
AUTOMATION
HANDLING
Worm gear units
Our strong and compact solution
The Heidrive worm gear is available with a torque of up to 20 Nm and can be ordered with ratios between 1:7 and 1:100.

This gear is filled with synthetic oil, closed and therefore maintenance-free. As the worm gear is mounted on ball bearings, it allows high axial and radial forces. The hardened and ground steel worm allows high shock loads. If the continuous torque is taken into account, peak torques can be transmitted well.

Heidrive gearboxes are designed for normal ambient temperatures as standard, have a tapped hole circle on both sides and a hollow shaft of 20 mm diameter with keyway. A brake attachment is possible as an option, the capacitor or three-phase motor can also be supplied 2-pole and a plug-in shaft on the left, right or on both sides can also be implemented on request.

Heidrive worm gear units are extremely compact and have been specially developed for equipment construction and can be combined with both synchronous motors and asynchronous motors.