Capacitor/Three-phase motors
Capacitor/Three-phase motors
High speed drive
| | |
| --- | --- |
| Input power: | 35 - 540 W |
| Output power: | 11 - 403 W |
| Rated speed: | 1,200 - 2,750 rpm |
| Rated torque: | 0.042 - 1.45 Nm |
| Protection class: | IP00 / 40 |
| Options: | Electronic speed regulation, encoder, brake, axial fan, special shaft, special flange, connection in different types, finishing |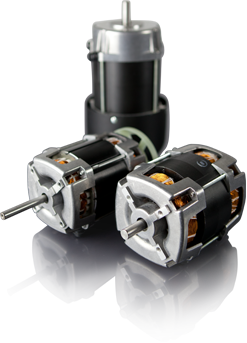 PACKAGING MACHINES
TOOLING MACHINES
OPTICAL MACHINES
INDUSTRIAL ROBOTS
AUTOMATION
HANDLING
PACKAGING MACHINES
TOOLING MACHINES
OPTICAL MACHINES
INDUSTRIAL ROBOTS
AUTOMATION
HANDLING
PACKAGING MACHINES
TOOLING MACHINES
OPTICAL MACHINES
INDUSTRIAL ROBOTS
AUTOMATION
HANDLING
Capacitor motors
A proven solution for alternating current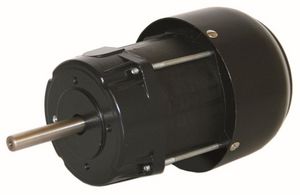 Our high vertical range of manufacture and our many years of experience in a wide variety of industries make it possible to achieve the optimum performance for your application.
The capacitor motor - the concept
In comparison to the shaded-pole Motor, the capacitor motor has a better efficiency and generally also a higher starting torque. The basic concept of the capacitor motors essentially corresponds to that of the three-phase motors, especially with regard to the components used such as Rotor and Stator package. One difference between the three-phase motor and the classic capacitor motor is the structure of the winding, i.e. the distinction between the power winding and an auxiliary winding. As there is no phase shift from the mains as with three-phase current, operating capacitors are usually used which are connected in series with the auxiliary winding. This shifts the phase position of the current in the auxiliary winding, which leads to independent starting of the motor. A variant of the classic power/auxiliary winding is the three-phase winding with three symmetrical phases, which can simulate the rotating field of a capacitor motor when connected in a Steinmetz circuit.
Special voltages available on request
An operating capacitor is required to operate this motor, which Heidrive supplies as an option. The capacitor motor is available with 2, 4 or 8 poles and is characterised by its high reliability, maintenance-free operation and long durability. The numerous additional options for this motor are also particularly worth mentioning. The connecting cables can be configured in various designs and there are numerous painting options available. Special shafts and special flanges are also available as additional options. The Heidrive capacitor motor is designed with protection classes from IP00 to IP67 as standard. The standard voltage is fixed from 115 to 230 V at 50/60 Hz. Of course, special voltages are also available on request. The capacitor motor is also available in UL. The direction of rotation of the motor can be changed by reconnecting the neutral conductor. The field of application of the Heidrive capacitor motor is limitless and can be used universally. It is used in a wide variety of applications, for example as a drive for a coffee grinder or as a drive for radial blowers. Capacitor motors are used wherever continuous speeds approaching synchronous speeds (3,000 rpm for 2-pole capacitor motors) are required and the step response to a torque increase can be tolerated with a speed drop. Capacitor motors are less expensive than synchronous motors, but due to the required starting capacitor they are generally more expensive than three-phase motors.
Three-phase motors
A reliable solution with high performance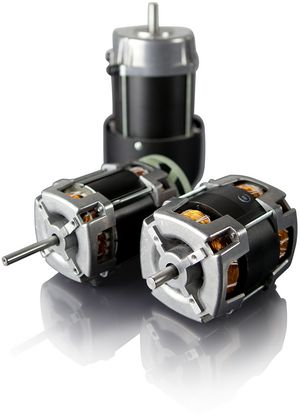 Our three-phase motors are asynchronous squirrel-cage motors in delta or star connection. They are characterised by a high starting torque, which is considerably higher than the nominal torque. The motors have a smoothly and quiet running, they are robust, maintenance-free and have a long durability.
The three-phase motor - the concept
An asynchronous squirrel-cage motor with triangular or star connection is called a three-phase motor. A three-phase motor is operated with three-phase alternating current or three-phase current. The three-phase motor from Heidrive has been used in a wide variety of applications since 1958.
Drive with high speed
Due to its high speed in conjunction with a frequency converter and its precise synchronous operation, the Heidrive three-phase motor is particularly suitable for use in centrifuges. The rotors are finely balanced to achieve speeds of up to 30,000 rpm without any problems. In addition, special bearings and adjustments such as shims and spring assemblies are used. The high quality of Heidrive's customer-specific products differentiates the company from its competitors. An example of this would be the integration of fan blades, special shafts and special flanges. Manufacturers of laboratory and medical equipment rely on Heidrive's three-phase AC motor and appreciate its durability and reliability. Furthermore, this motor is used in combination with a cylindrical gear or helical bevel gear as a drive for an ice cube machine, for conveying pellets in heating systems and as a drive for flue gas fans.